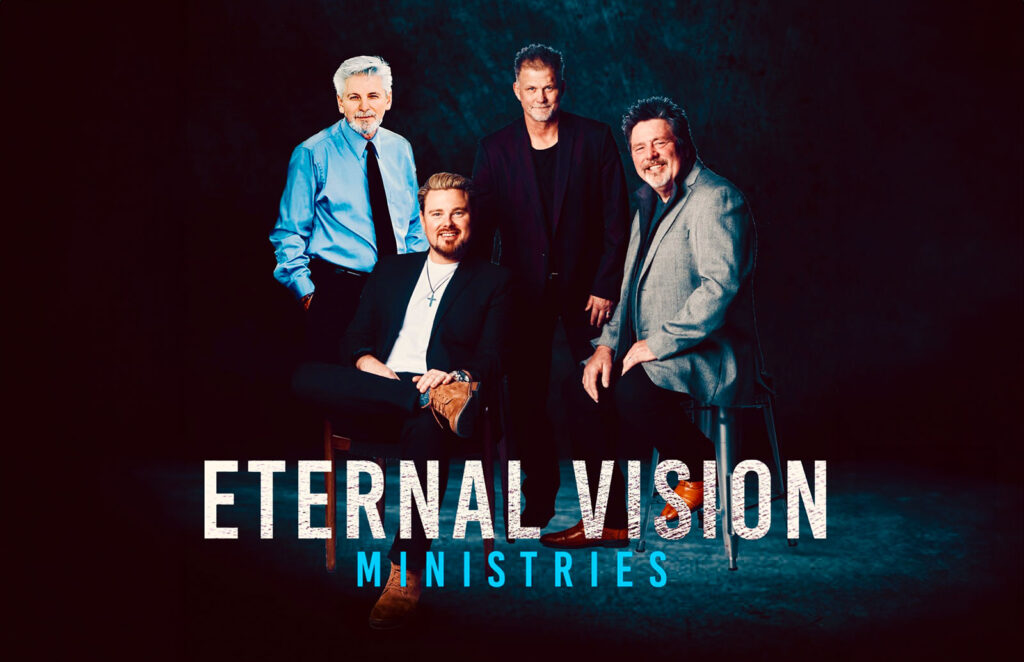 As of 2023, Eternal Vision is celebrating 34 years of ministry. Mike Shelby, owner and original founding member, has been ministering in music for 50 years. Eternal Vision currently consists of Shannon Shelby (lead vocal, emcee & multi instrumentalist), Mike Shelby (baritone vocal, owner and manager), Warren Beeler (tenor vocal), Danny Overholt (additional vocals) & Earl Roberts (bass vocal). 
This multi award-winning group, travels 50 weeks a year and has been featured on The Grand Ole Opry Stage, The National Quartet Convention Main Stage, The Ark Encounter as well as annually at Dollywood and on Carnival Cruise Ships. In recent years, Eternal Vision has had an original #1 hit song in Inspirational Country Music, as well as multiple charting songs on The Singing News and other national charts. Their current radio single, 'Just As I Am', off of their latest album, "More Than Anthems", is sure to be another fan favorite. 
All members of Eternal Vision know the Lord Jesus Christ as their personal Savior and have a passion to share the gospel through song, testimony and God's Holy Word. Their concerts are engaging, uplifting, Christ honoring and ministry focused.
In Proverbs 29:18, The Word of God says: "Where there is no vision, the people perish." This group has an Eternal Vision, focused on Lord Jesus. Their hope is that all who experience their ministry, will have one also.
Eternal Vision Ministries
Mike Shelby is the founder of Eternal Vision and sings the baritone part. He has been singing and playing music his entire life. He has been in a gospel group ministering for nearly 50 years, and began Eternal Vision under the direction of the Holy Spirit in 1989.
Mike was raised as a preacher's kid and was saved as a teenager. He has been through many trials throughout his life, including the loss of his wife and cofounder of Eternal Vision, Gail Shelby in 2016, an inoperable brain tumor, several heart procedures, and a scare most recently with COVID-19. He is a walking miracle and believes that God has a plan and isn't finished with him yet. His desire is to bring as many people as possible with him to meet the Lord one day.
He, his wife, Lesley, and daughter, Emily, live in Halls,Tennessee where he spends most of his days working on the bus and keeping the ministry going.
Michael Shannon Shelby is from Knoxville, TN. An award-winning multi-instrumentalist, singer and preacher, Shannon began serving with Eternal Vision in 1996. He accepted Christ as his Lord and Savior at age 7. He has had the privilege of performing at Carnegie Hall, The Grand Ole Opry stage, Dollywood's Showstreet Palace and Backporch Theater, National Quartet Convention's Main Stage, Lincoln Theater in Napa Valley, and thousands of other venues and churches. He and his wife, Kayla, have been married since 2007 and live in Corryton, TN with their four daughters: Annabelle Rose, Scarlett Grace, Julianna Pearl and Priscilla Mae. They are members of Fairview Knox Church. Shannon has a passion for leading worship and sharing The Gospel of Jesus Christ in these last days. 
Warren Beeler is the tenor for Eternal Vision Ministries. He is the son of a gospel minister and has been singing in church his entire life. He accepted salvation at his home church at 9 years old. He sang in a family group in his early years and has led worship at several East Tennessee churches.
He has been traveling with Eternal Vision for the last 6 years. He is a walking testimony of God's grace and healing power as he survived a significant illness. He did lose his leg, but he did not lose his desire to serve the Lord. He lives in Knoxville, TN with his wife Donna. They have one daughter, Courtney, and two grand-dogs, Peyton and Remi.
Hailing from Knoxville, TN, Danny was saved & delivered from addiction in 1985. He was then called to preach in 1986. He has served in Rescued Ministries (originally Heart to Heart), since 2001. In 2016, Danny formed Rescue One ministries doing disaster relief work. He became a Chaplain for the Billy Graham Association in 2017, and in 2019 became a senior chaplain for the International Fellowship of Chaplains. Danny currently resides in Knoxville, TN with his wife, Alice. They are both members of Fairview Knox Church.